At Apel Building Products we strive to offer the best products, the best price, and the best service. That's why we feature Marvin® brand windows and doors.
As a supplier of Marvin® Window Products we service what we sell. Our service department is Marvin® Window & Door certified.
Let Apel Building Products, Inc. assist in your next remodeling or new building project.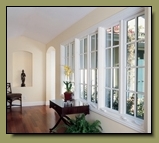 Whether viewed from the interior or exterior, Marvin® brand windows and doors will enhance your residence or commercial building.